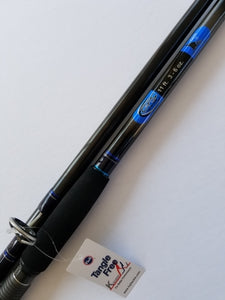 Cast Pro Series GEN 2 Factory Built Rod, 11 ft. 3-6 oz. Universal
Same proven design as the GEN 1 rod built with modern IM8 Carbon Fiber for better performance. Lighter weight, faster recovery and longer casts make the GEN 2 rods a must have for the serious surf angler! Features FUJI KWAG guides and FUJI reel seat.

The 11' 3-6 GEN 2 may just be the perfect middleweight rod. Great bottom fishing for puppy drum or sea mullet and exceptional for throwing medium to heavy metals, lures and plugs. It even has the backbone to hunt drum on days that you don't need or want to throw 8oz. About as close as you can get to the elusive "one rod does it all" stick.
*This product ships separately.