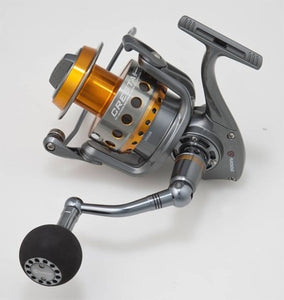 Akios Cresta Fixed Spool AK 90
A True Power House.
The Akios CRESTA Series is a true Power House of a reel, built to fight the biggest of fish in Salt or Fresh Water ! The CRESTA Series of reels has 7 waterproof seals in the body and two in the handle making the reel Saltwater Resistant. In addition the reel incorporates a 30kg drag which is capable of stopping most running fish. AKIOS Cresta reels will be ideal powerful fixed spool reels for Big saltwater species from the boat or shoreline, hard fighting Catfish and be an ideal reel for big Cod,Ling and Halibut. The Cresta AK 90 & AK 100 offer exceptional value for money for such a high specification reel series!

 *This product ships separately.