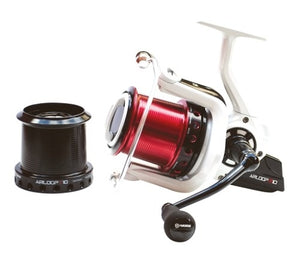 AKIOS Airloop R8
Specifically designed to offer extreme casting distances, the Akios AIRLOOP R8 is the reel of choice should you be seeking extra yardage.  A true casting machine, the AIRLOOP offers super slow oscillation, laying a phenomenal 54 turns of line per cycle on the tournament length spool resulting in truly exceptional line lay. The precise laying of line on the spool significantly reduces frictional drag as the line peels off the spool leading to substantial gains in casting distances. Equipped with an impressive 8+1 stainless steel ball bearings and a worm drive gearing mechanism, not only is the AIRLOOP silky smooth it's incredibly tough too.  The speed drag system allow the drag to be tightened up with just a fraction of a turn allowing hard running fish to be instantly tamed. This is the Akios AIRLOOP R10 with a spool that's 10mm longer than the AIRLOOP R8 providing even greater line capacity and even longer casting potential.
Long Spooled surf reel
Super slow oscillation
Extra long spool
Long cast angled spool lip
High strength composite body and rotor
Corrosion Resistant Instant Anti-Reverse Bearing
Carbon Multi Disc Front Drag for Optimal Drag Performance
Tough Worm-Drive Gearing
Dual strength stainless steel main shaft
8 + 1 stainless steel ball bearings
Retrieve 4.1:1
Line retrieve 87cm per turn
Supplied with 1 x deep spool & 1 x medium spool
Line capacity -
Deep spool - 220yds x 20lb
Medium spool - 280yds x 16lb
 *This product ships separately.